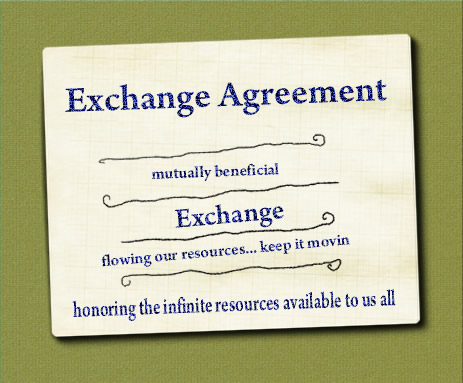 We are living in a universe
with Unlimited Resources.
What would you do if you had the money?

There are many ways to exchange our resources. Money is a symbol of exchange that is often the simplest and most straightforward. But let us not forget that money is a symbol of something greater..... We have options for exchange.
Are you fully acknowledging all that you have to offer in exchange?
Kastle Key & The Divine Playhouse honors the infinite resources within You.
What flows into your life, or through you?
maybe an object? service? what else?
How can you share and exchange with others?
Exchange Agreements
Many of our programs and activities are offered with an option to use resources other than cash.
Signed "Exchange Agreements" provide a way to exchange resources in a mutually beneficial way. You may exchange with Kastle Key directly, or exchange with others who are exchanging with us. We can create an community of exchange that benefits us all.
(more)
There are many options.
Tell us your idea for exchange. How can you stimulate the cycle of exchange with the resources flowing through you?
Cash is an easy way to exchange resources, but you can find opportunities to expand out of the "cash box."
Look for ways you can exchange with others using unique resources in your life. You are a channel through which resources can flow.
Programs offered with a "Suggested Exchange"
Some of our programs are offered with a "Suggested Exchange." This gives you more freedom to play around with how/what you would like to exchange for what you are receiving. Sometimes we have more resources readily available to us, and other times we may feel a little depleted and need to be filled up so we can generate more. Its a cycle, and you can jump in anywhere you are. Just get the resources moving... and watch everything exponentially expand. We can learn to keep our exchanges more even as we go along, so that we experience a continuous cycle of overflowing...... an experience of Exchanging Wealth.
Acknowledge REAL Wealth
Real wealth is not found in a dollar bill... or even a trillion dollar bills. Real wealth is happiness, health, and vibrancy. Real Wealth is healthy relationships, peace of mind, and waking up each morning with a vision for life. Real wealth is found in each one of us... not because of what we do, but because of who we are. We are worthy because we are breathing. We are worthy because we are here participating in the thriving, growing, evolution of this planet.
Recognize your gifts, your inner strengths... recognize your power to contribute to the Real Wealth of Living.
Life is precious. Life itself is a gift for us to experience. Live your life with inspiration.
Live your life with purpose, and you are RICH with LIFE!

Explore Resource & Money Concepts
Suggestions for Successful Bartering
Tell us what other topics would you like to explore?